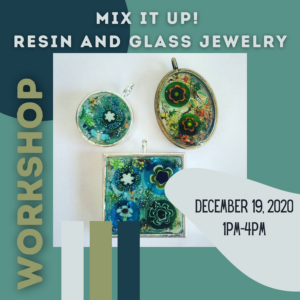 Mix It Up!  Resin and Glass Jewelry
with Jackie Kaufman
December 19, 2020
1pm-4pm
We will be creating 3 different necklaces in 3 different shapes using decorative Millefiori Glass and UV Resin. We will be layering the resin and glass pieces with other elements including flowers, glitter, beads, clay and more to create one of a kind necklaces. Each layer will be designed to have a finished little work of art to wear,
UV resin is a one part resin that is hardened with a UV light.
We will be completing 3 necklaces that will also include a leather cord or chain for each.
All supplies are included and students can bring their own small decorative pieces such as shells, broken jewelry, beads, stones etc.
Finished pieces will make great gifts for the holidays.
Cost: $60

Purchasing a gift for someone? Consider a gift card! Call us at 727-822-7872 or drop in during business hours!
For more information, please call the Morean Arts Center at [email protected]r.org