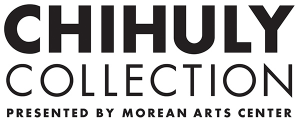 FOR IMMEDIATE RELEASE
July 1, 2016
CONTACT: Will Darnall [email protected]
727.822.7872 x2210
Morean Arts Center Board of Trustees Announces Closing Dates for Chihuly Collection Beach Drive Location
Grand Re-Opening Scheduled for October 2016 on Central Avenue
St. Petersburg, Fla. – The Morean Arts Center Board of Trustees announces today that the Chihuly Collection will be closing its Beach Drive location on August 1. The Chihuly Collection will be open with normal business hours through July 31. The relocation will start immediately, with a Grand Re-Opening scheduled for October 2016 on Central Avenue.
The new location, 720 Central Avenue, will be adjacent to the Morean Arts Center. The new location will include an exhibition space and approximately 4,200 square feet of outdoor space.
Since the opening of the Chihuly Collection in 2010, St. Petersburg continues to solidify itself as a major arts destination in the country, voted #1 for mid-size cities three years running according to American Style Magazine.
Roger Ross, Morean Arts Center Interim Executive Director and CFO, stated that "revenue generated through the Chihuly Collection helps sustain the educational programs at the Morean Arts Center. The Collection and the Morean will benefit greatly from their close proximity to each other". "Guests will be able to see immediately the impact their dollars have on the local arts community," Ross continued.
The recently renovated and expanded Chihuly Collection Retail Store and the newly added temporary exhibition space will make the move to Central Avenue as well. Quarterly exhibits will continue to showcase nationally acclaimed glass artists.
Andy Schlauch, Chihuly Collection Executive Director, "is ecstatic to be located within the Central Arts District and the heart of the arts and culture scene in St. Petersburg. The Chihuly Collection will bring a new diverse group to the neighborhood and will help contribute to the local arts scene, not just the Morean Arts Center and Morean Glass Studio & Hot Shop, but the many others located within the district."
For more information regarding the Grand Re-Opening schedule, please visit MoreanArtsCenter.org as well as social media (@ChihulyStPete) for updates.
###
Dale Chihuly's passion and support of children's art education was a prime reason for choosing St. Petersburg as the home for the Chihuly Collection. All net proceeds stay local to St. Petersburg to help support and sustain the educational programs at the Morean Arts Center.
The Morean Arts Center, with roots dating back to 1917 as the Art Club of St. Petersburg, focuses on an innovative, community-oriented approach to art and art education. The mission of the Morean Arts Center is to connect people with art and to contribute to the economic development of the region. Operating under the Morean Arts Center includes the Chihuly Collection, Glass Studio & Hot Shop and the Morean Center for Clay.