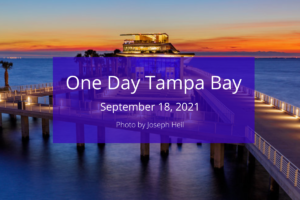 SATURDAY, SEPTEMBER 18, 2021
Photograph for 1 hour or all 24 — Just come out and have fun!
One Day Tampa Bay is a 24-hour community photography project meant to document the lives and light of St Pete, Tampa, Clearwater and all the towns in between. This is an annual event designed to create a dynamic and reflective documentation of our cities and their neighborhoods. All levels of photographers are welcome.

NEW: There are no hard boundaries for defining "Tampa Bay". Photographers may wander Pinellas, Hillsborough, and Manatee Counties with Polk and Sarasota as outlying options.
FOR MORE INFORMATION, please download: One Day Tampa Bay 2021 FAQ
A full-color book will be produced with selected images and all images will appear in an online gallery.
Proceeds will directly benefit the Morean Arts Center's photography & digital imaging program with scholarships and equipment for youth and adults.
A free preparation class* and post critique class will be offered for all registered photographers.
Each photographer can submit up to 10 images to be considered for the book.
A juried selection of images will be selected for an exhibition at the Dunedin Fine Arts Center.
All images submitted will go into our online gallery on Flickr and Facebook.