Beginning Painting for Teens & Adults
w

ith Shawn Dell Joyce
Tuesdays
6:30pm-9:30pm
Offered for:
Summer Session 2 (Jul 20, 27, Aug 3, 10, 17, 24) 
Skill Level: All Levels
Recommended for ages: 12 and older
Learn the basics of painting. Make six different paintings, one for each class, and learn specific skills with each painting! Each class focuses on a different art concept, brush skill, color skill, and drawing skill. At the end of six weeks you will have all the basics to be able to paint independently with confidence. Art skills you will learn include composition, foreground/background and where to begin, and creating the illusion of depth and perspective in your paintings. Drawing skills include how to transfer a drawing to a canvas (3 methods) value scales and value sketching, and starting with simple shapes. Learn how to mix and match color, and make your own color wheel. Learn how to use different brushes and what they are for, as well as tools like sea sponge and palette knife. Learn how to use sighting to draw in perspective and self evaluate your own work to build on your strengths and minimize your weaknesses. Great class for learning the basics!
Supplies Needed 
Acrylic or oils: Titanium white, alizarin crimson, cadmium red medium, hansa yellow, cad. Yellow med., ultramarine blue, cerulean blue, black.
Canvas: 11×14-16×20 5 canvases, brushes: 1" flat, med. And small rounds
Paper: sketchbook 8×10, Pencil and eraser, water container, towel, sponge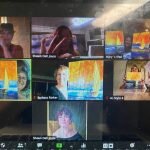 INSTRUCTOR BIO: Shawn Dell Joyce is the founder and former executive director of a nonprofit plein air school in NY called Wallkill River School. She teaches workshops in pastel and plein air techniques across the country, and is endorsed by Ampersand Pastelbords who supply materials for her demos and workshops. In 2017, she was hired by UArt to do a plein air pastel workshop. She has also worked the plein air event circuit and participated in many prestigious events around the country, bringing home awards for her loose and colorful paintings. She recently placed 1st in the 2018 Inverness Plein Air Festival, 1st in the Quickdraw at Lightchasers in Sarasota, and 3rd in the Hudson Valley Plein Air Festival. She is a signature member of New York Plein Air Painters (NYPAP), and International Plein Air Painters (IPAP), and has been featured in many national newspapers and magazines like the New York Times and Plein Air Magazine. She has participated in many national exhibits and plein air festivals, and is represented by galleries in NY and Florida.
Non-Members – $180    Members – $153

To register by phone or to obtain more details, please email [email protected] or call the Morean Arts Center at 727.822.7872; please note the office phones may not be covered due to many team members working remote.