Art of Valor: Photography Workshops
with Michelle Cornejo
Understanding Light & Composition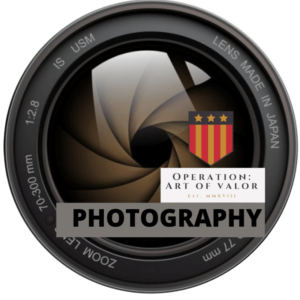 Saturday, May 20 and/or Wednesday, June 7
1:00pm – 4pm
For Veterans Only
(Registration Required)
FREE


Saturday, May 20th – Digital Photography Fun!
Digital Lab-room 201
1pm-4pm
In this workshop, we will explore the basics of light and composition and then take our digital cameras outside for a fun photo walk! 
We will finish the workshop with some time to upload and view the images we took on our photo walk.  Great for beginners!
 Don't have a camera? No problem, we have digital cameras that you can use! 
Wednesday, June 7 – Film Camera and Darkroom fun! 
Darkroom-203
 1pm-4pm
In this workshop, we will get our hands wet in the 
darkroom
!  Learn to create a photogram with black and white negatives and found objects.  You will be able to take your photograms home with you after the workshop!  All materials provided. 
Saturday, June 17 – Lightroom Workshop -Intro to Adobe Lightroom®
Description: This 3-hour crash course will give you an introduction to the layout, functionalities and features of Adobe Lightroom®.  We will cover importing and exporting, file formats, choosing and rating images, editing, basic retouching and more!  This workshop is great for those who already have digital images to work with, either from a phone, DSLR camera, or Mirrorless camera.  
Please bring images on a phone or memory card, as well as an external hard drive or USB stick to save your work.  If you are bringing images from your phone, please bring the correct cable for file transfer.
Held at the Morean Arts Center
719 Central Ave, St. Petersburg, FL, 33701
Instructor Bio-
Michelle is an Ecuadorian American artist, photographer, producer, instructor, and adventurer. She has a BA from Loyola University New Orleans and an MFA from Savannah College of Art and Design. She has 21 years of experience in the field, including roles as university professor, National Geographic expeditions leader, photo and video producer, photo editor, freelance photographer, video production manager, photo assistant, and exhibiting artist. She has traveled to 27 countries (and counting) and loves the outdoors. She lives in Florida with her hubby, fur baby, and plants.

Please contact the Education Department if you have any questions
727.822.7872 x2121