BRONZclay: Bead Making & Texturing Techniques
with Roxanne Pizzuto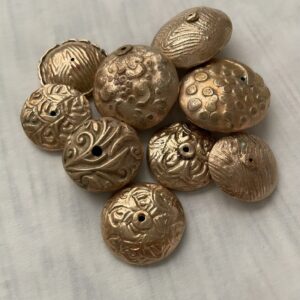 Thursdays, 6 classes
2:30pm – 5:30pm or 6pm – 9pm
Skill Level: All Levels
Offered for:
Fall Session 2, 2022 (Nov 3, 10, 17, Dec 1, 8, 15)
*Please note: No class 11/24
BRONZclay is an actual clay body that contains fine bronze particles, it can be beautifully textured and formed for jewelry making. BRONZclay requires firing; during thee firing process, the clay body burns off, resulting in a unique bronze piece.
Throughout this 6-week class, students will learn a variety of texturing techniques using water etching, copper etching, and polymer clay. Students will also learn different bead contruction methods and finishing techniques.
Students will use a minimum of 30 grams of BRONZclay for this workshop. You can purchase from RIO GRANDE Jewelry Supply at www.riogrande.com (either FAST Fire or Standard)
I will fire and tumble your BRONZclay beads, details will be given in class.
Optional:
Students can bring an Xacto knife, drinking straw, a very small paint brush, and clean clay tools if you have them. I will supply all other materials needed for a successful class!
Non-Members: $210
Members: $160
$85 Materials Fee payable to instructor
(This fee covers the cost of all weekly supplies and firing and tumbling. 
Does not include the cost of clay. Clay must be purchased from www.riogrande.com or from an instructor.
Purchase BRONZclay from the instructor at $25 per 30 grams.