Collage Clique: Underground Art Workshop
with Lance Rothstein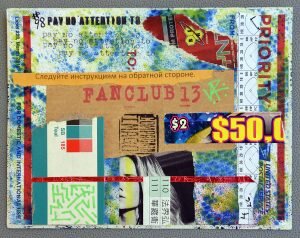 Saturday, Nov 5
2:30 – 5pm
Price: $65
Cut & paste for every taste!
In this new, exciting workshop, we'll take a deep dive into the art of collage, and we'll explore how it interacts with the "underground" worlds of Street Art, Found Object Art, and Mail Art. Participants will learn many techniques for collage art making and dissemination, with established, international street artist Lance Rothstein (a.k.a fanclub.13). In addition to putting up street art collages in more than 15 countries, He's served as an instructor at Kolaj Fest, New Orleans and led an international residency program for the Kolaj Institute.
With art in many publications and numerous exhibitions, Lance will share his enthusiasm for this unique art form.
We'll explore:
How to find great collage material by recycling found objects
Usage of different collage techniques and materials
Using collage as mindful exercise of self expression
Use the postal service to share our collages with other Mail Art enthusiasts around the globe.
$65


All materials will be provided, but participants may also bring their own supplies if desired.