Color Theory Workshop with Shawn Dell Joyce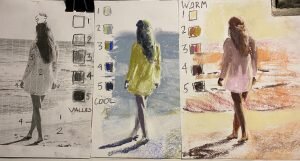 Saturday, Nov 12
1pm – 5pm
Price: $60
Learn to see color as value and how to use color to illicit an emotional response from your viewers. Make your own color wheel, and learn how to mix all the colors from the three primaries. Learn about color temperature and how to use warm and cool colors. Learn about complementary palettes and how to neutralize with the compliments. This course will change your attitude and use of color forever!
Materials List:
Pencil & plain white paper
Your favorite medium (watercolor, acrylic, pastel, oil)
Small surfaces to paint on (8×10 or smaller)
Shawn Dell Joyce is the founder and former executive director of a nonprofit plein air school in NY called Wallkill River School. She teaches workshops in pastel and plein air techniques across the country, and is endorsed by Ampersand Pastelbords who supply materials for her demos and workshops. In 2017, she was hired by UArt to do a plein air pastel workshop. She has also worked the plein air event circuit and participated in many prestigious events around the country, bringing home awards for her loose and colorful paintings. She recently placed 1st in the 2018 Inverness Plein Air Festival, 1st in the Quickdraw at Lightchasers in Sarasota, and 3rd in the Hudson Valley Plein Air Festival.  She is a signature member of New York Plein Air Painters (NYPAP), and International Plein Air Painters (IPAP), and has been featured in many national newspapers and magazines like the New York Times and Plein Air Magazine. She has participated in many national exhibits and plein air festivals, and is represented by galleries in NY and Florida.