Design to Conception - Handbuilding
with Ethan Fielder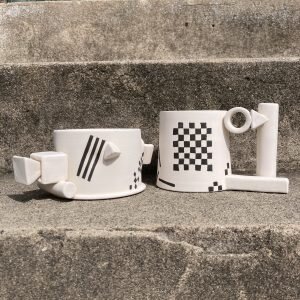 Thursdays, 6 classes
6pm – 8:30pm
Offered for:
Winter Session 1 (Jan 12, 19, 26, Feb 2, 9, 16)
Winter Session 2 (March 2, 9, 16, 23, 30, April 6)
In this class, we will utilize sketchbooks to design and create original pieces out of clay. Bring your ideas and let's figure out how to bring them into reality!
Demonstrations will cover various handbuilding processes and techniques such as coil building, slab building, and more!
Purchase clay prior to your first class by calling guest services at 727-821-7162 (Wed-Sat 10am-5pm) 
Phoenix – Best for Beginners– Made by Highwater Clays. Fires to a light tan in color. Great clay for beginners. Smooth enough to throw on the potter's wheel, but strong enough to withstand most hand-building techniques. Can be fired from Cone 6 to Cone 10. 
Speckled Brownstone – Made by Highwater Clays. Fires to a light brown in color with small black specs. Great for throwing on the potter's wheel. Can be fired to Cone 6. 
Held at the Morean Center for Clay
420 22nd Street South, St. Petersburg, FL 33712
Purchasing a gift for someone? Consider a gift card! Call us at 727-821-7162 x2311 or drop in during business hours!
Non-Members: $230
Members: $180