Digitize Your Negatives & Slides with Lance Rothstein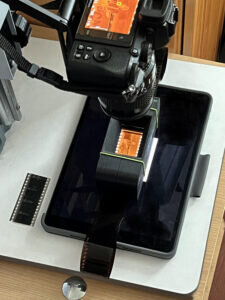 Saturday, December 11
12:30pm-2:30pm
Backup and share those old memories, or get your latest film photography digitized and optimized for storage and sharing.
Bring your old, (or recent) film negatives and/or slides and we'll go over the many different ways of digitizing them! Whether you've already discovered the joys of shooting film photography in out very own Morean Darkroom, or you just want to scan, preserve and share those old family negatives or slides before they melt away in your garage, this workshop is perfect for bringing any old film photograph into the digital age. Our resident film photography guru Lance Rothstein has been scanning negatives and slides since the early 1990s.
There are several affordable ways to digitize your film photography and we'll experiment with at least 4 different methods. Including: flatbed scanner with film adapter, digital camera captures, camera-phone apps, and consumer film scanners. So if you want to get some of the highest quality scans possible, or you just want to digitize a whole box of grandma's slides as quickly as possible, we'll explore the best ways to make your film photos into digital pictures.
Bring several of your negatives or slides, anything from 35mm & medium format to 4×5.
Every participant will get to try each method, and scan at least 10 of their images using different techniques.
$45
Veterans – FREE (pre-registration required; please call 727.822.7872 or email [email protected] to register)