Art Fundamentals: Dynamic Sketching
with Rasti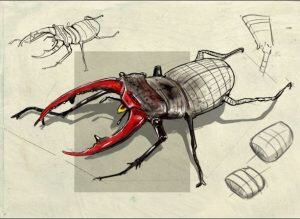 Thursdays, 6 classes
6pm – 9pm
Skill Level: Beginner/Intermediate
Offered for:
Winter Session 2 (March 2, 9, 16, 23, 30, April 6)

Learn how to communicate visually through drawing principles and knowledge. Dynamic Sketching class is a traditional drawing class that will enable you to approach the world around you, begin to observe life and draw anything you see. We will use observation as inspiration to begin your own designs and start your art journey with the dynamic sketching approach you will have stepping stones along the way. Dynamic Sketching 1 is a class designed to develop a foundation in basic drawing skills which will give you solid core foundation skill into any art career path you will choose. Students will learn how to break down objects to their most simplistic forms. Using pen and toned paper, students will learn to build confidence in their line work. 
Wanna be an artist ? painter? sculpture? anything? start with this class that is the very core of art.
Class Price 
INCLUDES professional sketchbook, pens, & Copic marker
Non-Members: $250
Members: $200
Rasti was born in Prague,Czech Republic in 1992. Throughout his life, Rasti has always been fascinated with old masters and their skill and how the world is represented through the eyes of others. Naturally, He was drawn to traditional drawing and painting later Digital painting. The interest was cultivated during his 20s years and developed in multiple schools arround the world.
Rasti delved even more into his art fundamentals and design practice, which involved Scifi ,and Fantasy genre as much as traditional painting. Rasti is also a teacher, specializing in Dynamic Sketching, Anatomy and Entertainment Design. He teaches different age groups- in order to help them foster the same enthusiasm that He has for Drawing. He is also pursuing traditional painting with arylics under influence of Loonard Lewis.
Rasti was selected as one of the Graduates featured in The Rookies (2019).