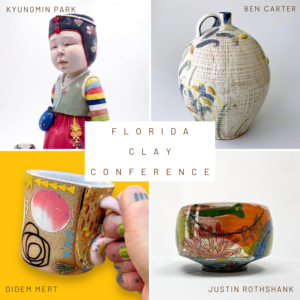 3 Day Workshop
 February 22, 23, 24
 9am – 5pm each day 
Lunch Break 12pm – 1pm
Cost: $475
FLORIDA CLAY CONFERENCE is a 3 day demonstration based workshop. Join us for a weekend of fun with 4 internationally recognized artists as they share insights on their process and craft. Participants will get to watch 3 days of demonstrations and slideshow presentations about each artists' body of work. Plus! A private closing reception and potluck on the kiln pad for a chance to socialize with the presenters and fellow workshop attendees. Just bring a lunch and a journal and be ready to take notes; you won't want to miss out on what the artists have to share!
For questions please call (727) 821-7162 ext. 2311 Wednesday-Saturday 10am – 5pm
Daily Schedule:
Thursday – Saturday
9am – 12pm: Introductions, demonstrations begin
12pm – 1pm: lunch break
1pm – 4pm: demonstrations continue
4pm – 5pm: Artist Talks
Saturday 5pm – 9pm: Closing gallery reception, kiln pad pot luck
Tuition Refund Policy: Full refund or credit will be issued for any class cancelled by the Morean Arts Center. A $25 processing fee is deducted for all other student refund requests. No refunds will be issued on or after the first day of class.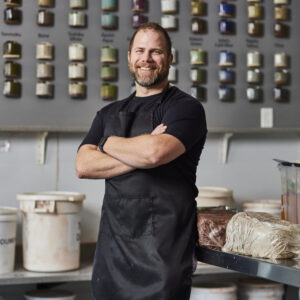 BEN CARTER
Ben Carter is a studio potter, educator, and podcast host/producer based in New Jersey. He received his BFA in ceramics/painting from Appalachian State University and his MFA in ceramics from the University of Florida. His professional experience includes being an artist-in-residence at the Archie Bray Foundation in Helena, MT and Anderson Ranch Arts Center in Snowmass, CO, as well as the Education Director of the Pottery Workshop in Shanghi, China. He has lectured and exhibited widely in the United States, Canada, China, Australia, and New Zealand. He was named 2016 Ceramic Artist of the Year by Ceramics Monthly and Pottery Making Illustrated. He has authored a full-length book, Mastering the Potter's Wheel, published by Voyageur Press in 2016.
DIDEM MERT
Didem Mert (she/they) was born and raised in Cincinnati, OH. Mert received their BFA (ceramics) from Northern Kentucky University in 2014 and MFA (ceramics) from Edinboro University of Pennsylvania in 2017. Mert has exhibited nationally in places such as The Clay Studio, AKAR, The Archie Bray Gallery, The Erie Art Museum, and over forty other venues. Didem's work was published in Ceramics Monthly's 2014 Undergraduate Showcase. Mert was awarded a first prize grant through the Three Arts Foundation in 2014. They were featured on the cover of Pottery Making Illustrated's January/February 2016 issue. Mert was included on C File's list of 15 Potters to Watch in 2016 and was featured on Architectural Digest's 10 Ceramic Artists Giving Pottery A Modern Update. Mert led a residency at Watershed Center for the Ceramic Arts during the summer of 2017. They were honored as one of Ceramics Monthly's Emerging Artists of 2018. Mert was a summer resident at the Archie Bray Foundation in 2018. Didem currently lives between Sebastopol, CA and works as a full-time studio potter and workshop instructor.
JUSTIN ROTHSHANK
Justin Rothshank is a studio potter working in Goshen, Indiana since 2009. Justin's ceramic work has been exhibited and published internationally, including articles in Ceramics Monthly, American Craft, Studio Potter, The Log Book, and several books. He has been a presenter, panelist, visiting artist, and artist-in-residence at numerous universities, schools, conferences, and art centers throughout the United States and abroad. In 2012 Justin released an instructional DVD titled Ceramic Decals: New Ideas and Techniques, published by Ceramic Arts Daily. His functional and decorative ceramic ware is available for purchase in more than three dozen galleries and gift shops around the country.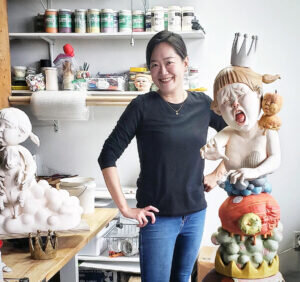 KYUNGMIN PARK
Originally from South Korea, Kyungmin earned her MFA in Ceramics from the University of Georgia in 2012 and her BFA from New York State College of Ceramics at Alfred University in 2008. Currently, Kyungmin is an Associate Professor of 3D studio art at Endicott College in Beverly, MA. Park was a long-term resident artist at the Archie Bray Foundation, where she earned Matsutani and Windgate Fellowship. Park has won multiple awards, including the Emerging Artist of the Year Award by NCECA in 2016 and 2015 from Ceramics Monthly. Kyungmin was invited as a 2017 guest artist at the Jingdezhen International Studio in China and A.I.R. Vallauris in France in 2011 and 2022.