Spooktacular Linocut Printmaking Workshop
with Linda Griffin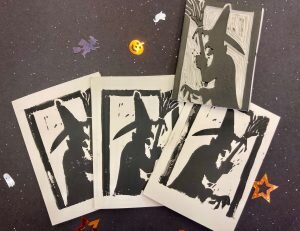 Saturday, Oct 22
10:30am – 3:30pm
Price: $100
+ $10 cash supply fee
In this workshop we will cut into a piece of Lino block to create beautiful, one-of-a-kind stamps in the theme of Halloween. We will first roll ink onto our stamps and print ten 3×5 cards with envelopes. Next, we will roll fabric paint onto our Lino block and stamp two separate tea towels to use in your kitchen or gift to a friend.
Come spend the day designing, carving, and inking your very own original artwork on a Lino block.
Printmaking is a super fun and super satisfying form of art making. I will supply you with all the tools you need to create lovely, original linocuts.
This workshop will begin with coffee and croissants and books to inspire your original design. You will be provided time and paper to create your unique sketch. If you find something online before attending, please print it out and be prepared to draw it. If you prefer to trace your design, please be sure that it is 3×5 inches. Next, you will draw your chosen design onto a piece of linoleum. Then you will learn how to carve out the negative space in your piece of linoleum (so satisfying).
At 12:30, we will take an hour-long lunch break. So feel free to enjoy all our great local options! Upon our returning, we will finish our carving, and then you will learn how to use a brayer to 'ink' your linoleum and create your amazing prints on 3×5 cards and tea towels.
Each person will be provided all supplies, 10 cards with envelopes and two tea towels to customize.
It will be a fantastic way to spend a day and get in the Halloween spirit! Bring a friend or meet some new ones! Looking forward to sharing this beautiful art form with you! All levels of experience are welcome!
$100 for workshop
$10 cash supply fee