Holiday Cards Linocut Printmaking
Workshop with Linda Griffin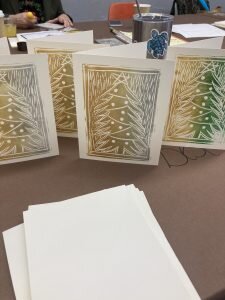 Saturday, Dec 3
11am – 4pm
All levels of experience are welcome!
Price: $100
Come spend the day designing, carving, and inking your very own original artwork on linoleum.
Printmaking is a super fun and super satisfying form of art making. I will supply you with all the tools you need to create lovely, original cards and prints to give for any occasion or for the upcoming holiday gift-giving season.
This workshop will begin with coffee and croissants and books to inspire your original design or you can come prepared with your 3×5 harvest design. You will be provided time and paper to create your unique sketch. Next, you will draw your chosen design onto a piece of linoleum. Then, you will learn how to carve out the negative space in your piece if linoleum (so satisfying).
At 12:30, we will take an hour-long break. So feel free to enjoy all of our great local options! Upon our returning, we will finish our carving and then you will learn how to use a brayer to 'ink' your linoleum and create your amazing prints!
Each person will be provided all supplies, as previously stated; 10 cards with envelopes as well as five single-sided cardstock pieces for their original prints.
It will be a fantastic way to spend a day! Bring a friend or meet some new ones! Looking forward to sharing this beautiful art form with you! All levels or experience are welcome.
$100 + $10 Material Fee payable to instructor.