Improv FUN! Workshop with Maria Scuderi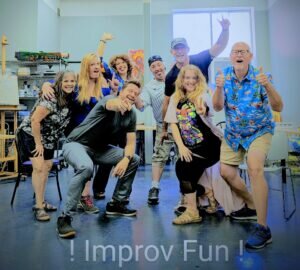 Saturday, September 30
1pm – 4pm
Price: $45
Let's Improv! In this engaging 3-hour workshop, step into a world of improvisation where your cares are left behind, and your inner child has time to play. Don't hold back – give improv a chance and bid farewell to any preconceived notions about what it entails.
Discover the fundamentals of improvisation and embrace the joy of playful exploration in a safe and encouraging environment. I will guide you through simple beginner group games and essential improvisational tools. Laughter naturally abounds in this supportive, free-flowing atmosphere; yet, quick wit isn't a prerequisite. All you need is the desire to cut loose, make new friends, and the ability to stay alert, open, and flexible. Improv is proven to spark creativity, nurture self-assurance, and foster camaraderie. If you possess a curious mind and are eager to unleash your imagination, this workshop is for you. Join me on the Improv playground where spontaneous possibilities have room to run!
Meet your workshop facilitator:
Maria Scuderi is a passionate advocate and coach of creative self-expression. With a master's in art education and a rich background in the performing arts, Maria embarked on her improv journey in Portland, Oregon, and has since flourished with experiences at American Stage, John Huls Artsy Improv, and Spitfire Comedy House. Maria's mission centers around cultivating inclusive and inviting spaces, empowering every student to embrace radical self-expression with confident Ad-Liberation!