Large and In Charge with Amy Sanders and Molly Duff-Clarke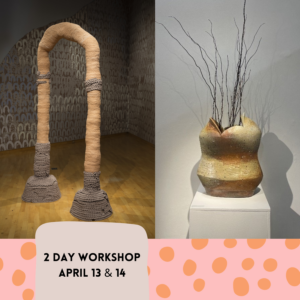 2-day Workshop
April 13 & 14
10am – 4pm each day
12pm – 1pm lunch break
Cost: $250
This 2-day workshop will demonstrate how easy it is to build big! See 2 approaches to build large scale with 2 different instructors. See Amy Sander's hollow building method, which lends itself to build vessels of any size with speed, ease, and confidence. Molly will demonstrate how she constructs large forms with coils. The goal of this workshop is to give you insight on how to build large scale. We will discuss how to work with limited kiln space, firing schedules, drying times, and different clay body options. Open to all skill levels.
This workshop is a demonstration based workshop. Participants will have the opportunity to try their hand at the technique but no firings will take place.
Each day will run from 10am – 4pm, consist of demos, skill building, and discussions about our findings.
An hour lunch break will be included in the schedule.
Held at the Morean Center for Clay
420 22nd St. South
St. Petersburg, Florida
Tuition Refund Policy: Full refund or credit will be issued for any class cancelled by the Morean Arts Center. A $25 processing fee is deducted for all other student refund requests. No refunds will be issued on or after the first day of class.