Printmaking 101
with Rachel Stewart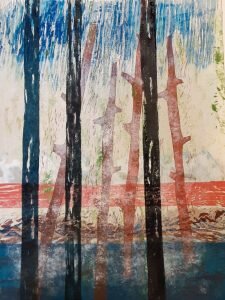 Wednesdays, 6 classes
10am – 1pm
Skill Level: Beginning/Intermediate
Offered for:

Fall Session 2 (Nov 8, 15, 22, 29, Dec 6, 13)
Learn to print without a printing press. Monoprint and relief printing are methods we will explore in this beginning/intermediate class. With these basic printmaking techniques, you will create your own special images. The techniques are fun and easy, producing exciting surprises. This class is also experimental and printed images can be cut, town, sewn, or folded, combined, and glued over other prints creating a collage of texture and color for your final product.
Members: $200
Non-Members: $250
Sign up for a membership HERE, and receive $50 off For more information, please call the Morean Arts Center at 727.822.7872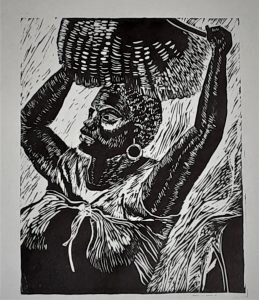 Instructor Bio:
Rachel Stewart
Rachel Stewart received a BFA in sculpture from Boston University College of Fine Arts and a MA from Union Institute and University. She lived and worked in Jamaica making it her home for twenty years. She taught at the Edna Manley College of the Visual and Performing Arts and exhibited her sculptures in various galleries including the National Gallery of Jamaica. Her collaborative public art murals can be seen in the Springs Plaza in Kingston, Life of Jamaica, and New Kingston Shopping Plaza. Photos of her sculptures can be seen in Jamaican publications such as Dare to Dream by Ken Ramsay and The Garden Party Celebrating the 40th Anniversary of the Bank of Jamaica. Her sculpture Waves is in the permanent collection of the National Gallery of Jamaica.
Currently she resides in St. Petersburg, Florida where she teaches and exhibits in galleries and museums throughout the state. Stewart was an Adjunct Professor in the College of Arts and Media at Southeastern University in Lakeland. She has also taught art to adults with special needs at Creative Clay Cultural Center and throughout the St. Petersburg community with the Nomad Art Project. She is a member of Florida Artist Group, Las Dames de Art, and 24 Hands Printmaking and Fine Art Printmakers Jamaica.
Stewart is a recipient of the Artist Resource Fund Award from the Pinellas Arts Council of Florida (2003) and St. Petersburg Arts Alliance (2016,2020). In the last couple years, she has concentrated on experimental printmaking, using her relief sculptures as a matrix for her prints. She was invited to exhibit her wood block mixed media prints at the Fine Art Print Exhibition at the University of the West Indies Regional Headquarters in Kingston, Jamaica. Her print "Climate Disturbances I" was included in an article in the 2021 Autumn Issue of PrintMakingToday.Co.Uk. Her wall sculpture Re-Defined was selected to be exhibited in the Best of the Southeastern Artists at ArtFields 2021 in Lake City, South Carolina. She is the recipient of the Creative Pinellas 2022 Professional Artist Grant Award.