SweethART Workshop: Fused Glass Heart Fun!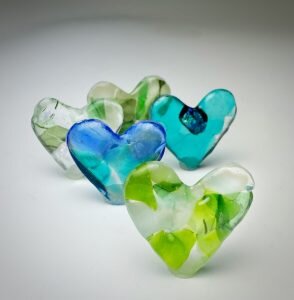 Date: Feb 5 Saturday
Times: 10-3 (you may finish earlier) 
Come design a special heart for your special person in GLASS!
No previous experience needed!Glass Fusion is the ART of making a design with Glass on Glass through the process of using a kiln to melt two or more pieces of glass together to fuse them. This process creates amazing fused glass pieces!
In this workshop, each heart mold makes up to 9 hearts. 
Students choose their favorite colors from glass available in the studio and make 3 hearts or up to 9 hearts! You decide!
Finished hearts will be available for pick up the following Friday, Febrary 11th, between 12pm and 5pm at the customer service desk at Morean Art Center.
Join in the fun! 
All Supplies will be provided!
*COE 96 glass will be used.