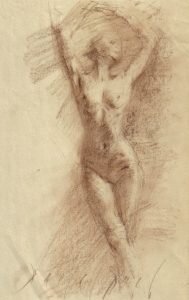 The Figure in Motion
with Rebecca Skelton
Tuesdays, 6 classes
6:30pm-9:30pm
Skill Level: All Levels
Offered for:
Winter Session 1 (Jan 9, 16, 23, 30, Feb 6 and 13) – CANCELLED
Our approach for this class is based on two ideas:
1) To make better drawings or paintings, you need to make better beginning sketches.
2) People rarely hold still.
We will attempt to imply motion on the paper through the use of gesture and quick structural studies. By trying to capture the motion in quick sketches, we will be practicing our beginnings. The fast drawing is a stepping stone to more in depth drawing which will usually be the last pose of the evening.
Materials
Pad of paper (18″ x 24″ newsprint recommended)
Soft vine charcoal/soft graphite pencils (4-8B/ebony)
Kneaded eraser
White drawing paper (optional, 6 sheets)
Any other materials you want to draw with or on.
Cost:
Member $180
Non Member $210
Model fee included



For more information or to register over the phone, please call the Morean Arts Center at 727.822.7872 ext. 2121
(If class has already begun, please call to inquire about late registration.)