Easy, Fun, Creative Improv
with Maria Scuderi and Marita Lynch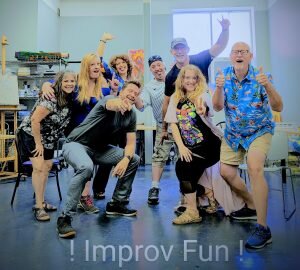 Wednesdays, 3 classes
6pm – 8pm
Offered for:
Winter Session 1 (Jan 11, 18, 25)
Winter Session 2 (March 1, 8, 15)
All levels welcome! 
Lets PLAY! Join us for an Easy, Fun, Creative Improv class at the Morean!
In this class, your fun-loving instructors will demonstrate and teach you easy group games to get you acquainted with the basic tools needed for Improv. Bring your friends and make some new friends! We will explore, build and co-create in this fun 6-week session.
Let's find the creative possibilities and joy that happens when we climb outside the box and jump into the Improv playground together!
$130 Flat Rate
Marita Lynch is a veteran of American Stage and John Huls Improv classes. She has performed stand-up at Studio 620 and The Mar. She believes that Improv is the best route to personal happiness through playfulness, connection, joy, and fun.
Maria Scuderi is an advocate and coach for the art of creative self-expression. With a Master's in art education and history in the performing Arts, Maria began improv in Portland, Oregon, and continued at American Stage and Jon Huls' Artsy Improv. Her latest performance was a sketch comedy performance at Studio 620. Creating welcoming environments for all students to feel safe and free to fully and radically express themselves is part of her mission!