Drop-In Workshop
Saturday: May 14
3pm-9pm
$10 at the door
The Dalí Museum and the Morean Arts Center are partnering to celebrate Surrealism with a selfie-inspired twist on the Exquisite Corpse parlor-game once popular among Dali and his Surrealist friends with a drop-in style workshop.
In this 21st century version of the game, Morean and Dalí Museum staff will take and print a full-length color photograph of you, which you will cut out, paper-doll style, and dissect into 3 parts: head, torso, and legs. Play around with your pieces. We will have black & white line-drawings of various other creatures available for you to cut out and combine with your own portrait: aliens, mermaids, animals, pirates… Give yourself octopus-tentacles for legs and the torso of a superhero… or keep your own body but replace your head with that of a fish… the possibilities are endless and the stranger the better. You will then add color with provided materials (colored pencils). Let your imagination fly! Your final creation goes home with you.
The workshop takes place at the Morean Arts Center, which is only minutes away from The Dalí by car, located on Central Avenue in downtown St. Pete. The Morean recently exhibited "Exquisite Porch", a collaborative exhibition curated by D. Dominick Lombardi and Amanda Cooper, featuring selected artists from Central Florida and the New York City Area who collaborated to produce a swampy, creepy-crawly spin on the Exquisite Corpse game. It was on view through May 1. The exhibit has been taken down, but come try your hand at our fun selfie-inspired version.
Cost: $10 per portrait (Pay at the door. No reservations.)
All ages are welcome.
Materials and instruction are included.
Allow for 1 hour to create.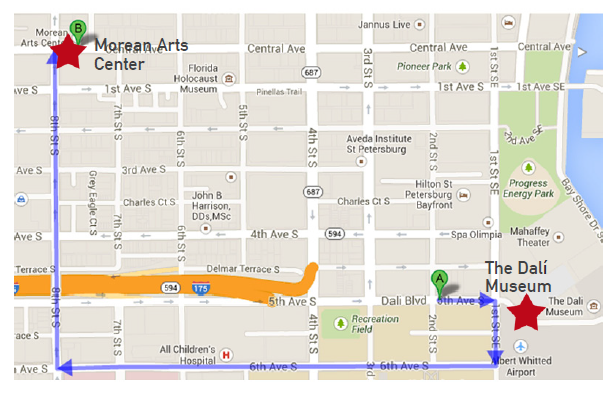 Event Location:
Morean Arts Center
719 Central Ave., Room 101
St. Petersburg, FL 33701
For more information call 727-822-7872