Exploring Resin Jewelry: Mother's Day Heart  Pendants
with Jackie Kaufman
May 1, 2021
1pm-4pm
We will create 2 unique, heart necklaces using 6-8 layers of resin in each  piece. We will incorporate small inclusions in the transparent layers creating a kaleidoscope effect. Each layer will be designed to create the most pleasing  overall  look of the necklace.
UV resin is a one part resin that uses UV light to harden. We will be completing 2 necklaces and a bonus ring. All supplies will be provided and students can bring their own small decorative items, such as broken pieces of old jewelry, shells, beads, stones, etc
The finished pieces will look like works of art!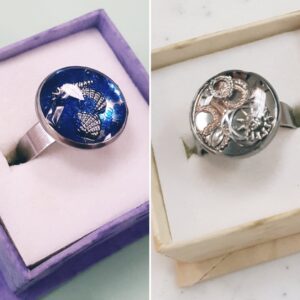 Cost: $60

Purchasing a gift for someone? Consider a gift card! Call us at 727-822-7872 or drop in during business hours!
For more information, please call the Morean Arts Center at [email protected]