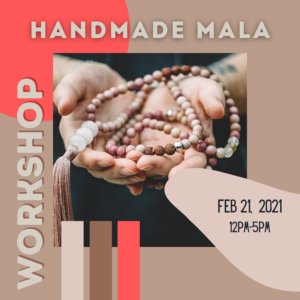 Handmade Mala with Brenda Gregory and Yarrow Ries
come join us as we discover the power of the mala to deepen the connection to our inner source. 
Traditional meditation beads known as Malas are used around the world for contemplative prayer, meditation and centering.
Whether you are just starting a meditation practice, or you're an advanced practitioner, Mala beads are a great tool to help focus your attention. They provide something tactile to come back to when your mind starts to wander. Rolling the beads through your fingers is a physical way to direct your energy and attention. It's a gentle reminder every few seconds to reground and refocus. 
Each participant will create their own 108 bead personalized mala thru the meditative process of knotting and securing each bead in place.
This powerful tool will help manifest and connect to your truest self. Participants will learn the history and use of the mala. Simple practices will be taught to help focus the mind using the breath and mantras (words or phrases) to enhance your practice.
Non-Member: $100 Member: $85
Purchasing a gift for someone? Consider a gift card! Call us at 727-822-7872 or drop in during business hours!

For more information, please call the Morean Arts Center at [email protected]