The glass furnace which melts sand to glass has been nicknamed "Puff" by our glass artists. Puff has been off-line since we closed for COVID compliance last spring. Puff is equipment that is critical to our ability to serve the community and supports the largest glory hole in the Southeast, allowing our artists to create large format glass art.
In this video made last spring, you can see Morean artists carefully shut down Puff and reserve the clear glass to be recycled into new art.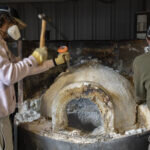 Making glass requires constant communication, trust, team-work, and creativity all balanced with fundamental skills and knowledge. It can also take unexpected twists and a stray air bubble or fleck of microscopic material can lead to shattered dreams.
This year, we continued some of the traditions that have sustained us over 100 years. We worked with our artists, members and students to
adapt. We have witnessed and been part of an amazing journey requiring strength, resiliency and creativity. Through this collective effort, we have delivered tens of thousands of virtual creative experiences, workshops and classes. We have shared the art made by our local creators in our online Morean shop.