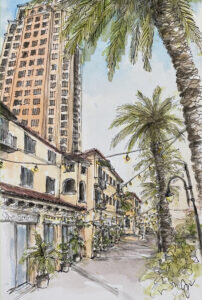 ONLINE: LANDMARK SKETCHES 
with Jen Fisher
SATURDAYS 10:00am -12:30pm
2 Classes – JUNE 5th & JUNE 12th
In this 2 day workshop, students will learn the fundamentals of 1 and 2 point perspective drawing and how to create architectural sketches. Lessons will focus on a select number of prominent architectural St. Pete landmarks as well as provide students with some fun historical facts.  Instructor will provide demos, perspective lessons and individual online assistance.  A great workshop to take for students preparing to submit their work for our Landmark member show this summer. All levels welcome.
Non-Members – $100    Members – $85



For more information or to register over the phone, please call the Morean Arts Center at 727.822.7872
---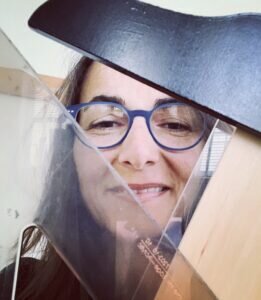 JEN FISHER is a multimedia artist with an interior design background currently residing in Boca Raton, Florida.

  

During her years as a commercial designer in New York City she worked for prominent architectural firms such as Hardy Holzman Pfeiffer Associates and Environetics. Transitioning to the academic world, she became an Academic and Career Advisor at the New York School of Interior Design teaching and mentoring aspiring designers. Jen's desire to create small took her artistic career on a new path: jewelry design while teaching art to children and adults. Jen created her own architecturally inspired jewelry line which sold in contemporary museum shops such as the Museum of Arts and Design in New York, MOCA Miami, and the National Building Museum in Washington, D.C. Jen then began painting while teaching and experimenting with new materials and techniques. Influenced from her interior design background and love of perspective drawing, her paintings allow her to express her creative thoughts using alternate mediums. Jen's paintings and jewelry have been exhibited in local and national galleries. She currently participates in various juried art exhibitions and teaches perspective drawing and urban sketching. Her 2020 pandemic drawings have become part of the William & Mary Libraries Special Collections' archive of personal experiences and documentaries of the coronavirus pandemic.