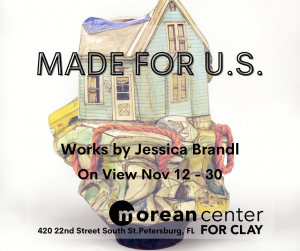 Exhibition dates: Nov 12 – 30
Opening Reception: 5-9pm on Nov 12
Artist Talk in Gallery at 7:30pm on Nov 12
Jessica Brandl's exhibition titled "Made for U.S." will be on display at The Morean Center for Clay from Nov 12th to Nov 30th. The show exhibits ceramic sculptures made with a focus on integrating image/picture design into 3-dimensional forms using wheel-thrown and hand-built techniques.
Jessica Brandl, a native Midwesterner, works in ceramics, sculpture, and drawing. 
Set in landscapes with looming architecture, turbulent skies, and misplaced objects, Brandl's work exposes historical and eccentric places engulfed in psychological scenarios – both sinister and sublime. Surprising spatial arrangements and disjunctive scale shifts support a voyeuristic sense of seeing things from the inside out. Her current work serves as pointed souvenirs of history and the path to American-ness.