Super Bowls
Opening January 9, 2021
Functional art, occupying the space between fine art and the everyday, is the focus of the upcoming exhibition at the Morean Center for Clay.
Super Bowls features a multitude of shapes, sizes, uses and artistic composition, showcasing the vast array of what some may call a mundane form. Each Bowl is handcrafted by a studio member, student or Artist-in-Residence of the Morean Center for Clay and curated by Kodi Thompson.
With a small yet meaningful donation of $10, guests can jump on a wheel and throw a bowl. No experience is necessary as there will be staff and instructors available for tips and tricks to help participants create their best functional piece of art.
On view January 9 through February 27, 2021, the Morean Center for Clay is open and free to the public weekly, Thursday through Saturday 10 a.m. to 5 p.m.
Fill the Bowls with Non-perishables:
Through the run of the Super Bowls Exhibition, the Morean Center for Clay will be collecting non-perishable items to distribute in the St. Petersburg area. With hunger on the rise, and continued economic uncertainty, the St. Petersburg area is in desperate need of support. Please drop off non-perishables at the Morean Center for Clay Thursdays-Saturdays from January 9 through February 27. Donations will be delivered to both Campbell Park Community Center and Metropolitan Ministries.
Help make these Super Bowls into Souper Bowls.
Some suggestions of items to donate:
– Soup (Pop-tops are best)
– Canned anything (Pop-tops are best)
– Can openers (For all of the regular canned items donated)
– Stove Top is a great item
– Boxed or powdered milk
– Spices, Salt and Pepper
– Pasta and Sauce
– Oil
– Tea and Coffee
Tampa Bay Buccaneer Fans:
Art and hometown Football Team Fan? Starlin Marlin has created a masterpiece and it's on view at the Morean Center for Clay in the Super Bowls Exhibition through February 27.
Super Bowl LV is just around the corner and what Buccaneer fan wouldn't want this beautiful handmade bowl to commemorate this amazing season?!?
Bidding starts at $250 with proceeds supporting the Morean Arts Center's educational programming and FREE access to amazing exhibitions year-round. Please email
[email protected]
with your bid. Bidding updates will be posted here along with the
Morean Center for Clay Facebook Page
.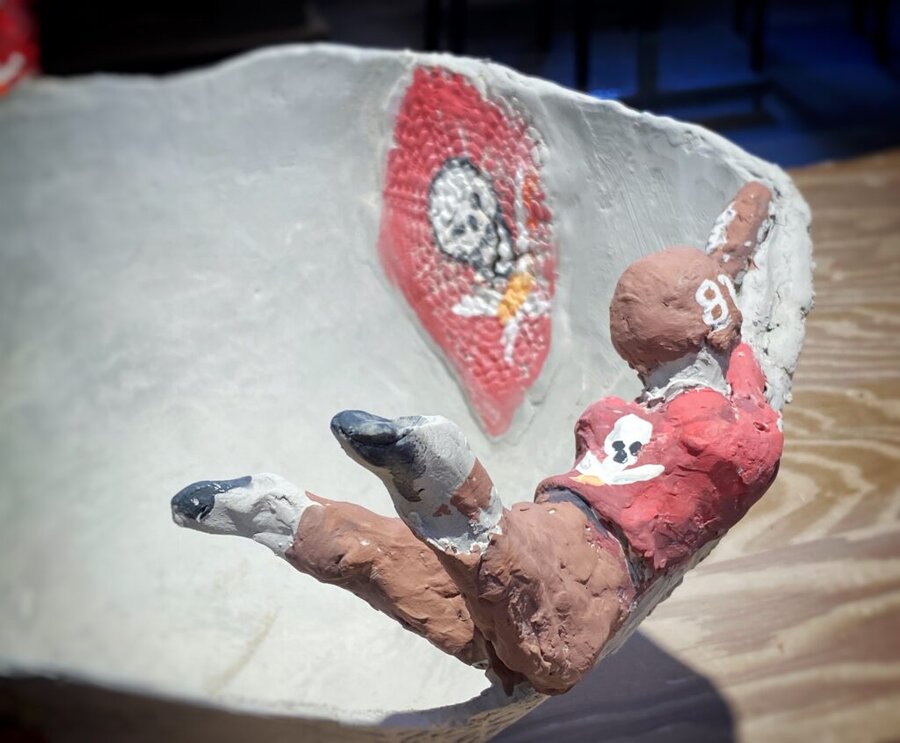 [siteorigin_widget class="SiteOrigin_Widget_LayoutSlider_Widget"][/siteorigin_widget]
[siteorigin_widget class="WP_Widget_Media_Gallery"][/siteorigin_widget]