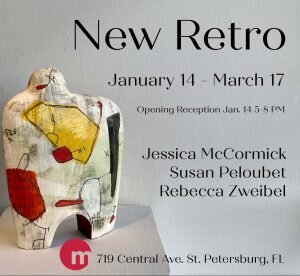 NEW RETRO
The Mid-Century Modern aesthetic has been having a big moment these past few years and doesn't appear to be slowing down. The three artists in this exhibition, Jessica McCormick, Susan Peloubet and Rebecca Zweibel, have been creating artwork in this vibe for much of their careers. Working in different media and from disparate viewpoints, their work has a timeless quality that is colorful and engaging.
 Jessica McCormick
Jessica McCormick has a style that is balanced and meditative. Her works are purely abstract, a creative avenue to study the effects of line, color, and weight within a composition. Jessica uses acrylic to create lines and angles that work to exert control and create a visual balance. Every piece she creates is both bold and meditative in the process and in its final result.
Jessica's works have been shortlisted for the Artzine Art Prize and earned her a semi-finalist slot in Bombay Sapphire's Artisan Series. She was born in Connecticut and has lived in various parts of Florida for most of her life. She earned her BA in Communications from Stetson University and currently lives with her husband in Tampa, Florida.
"My process works as a way to find personal alignment in a helter-skelter world. Even when everything seems turbulent, I turn to the canvas to re-exert some control over my own life. In my two-dimensional work, I will pair acrylic and tape to create crisp, perfect lines. Sometimes, I'll also focus on a subtly detailed background that allows me to dig deep into the process and find my peace there, through gestural repetition one layer at a time. I take the chaos of the world around me, channel it, and transform it into something intentional, meticulous, and balanced. Beyond my own internal motivations for creating a very particular type of art, I aim to give audiences a focal point to explore their own sense of what balance can look like. The lines in my work may intersect or run parallel to one another, creating different feelings of dynamism and movement across the canvas. Various blocks of colors will interplay with each other, highlighting their different weights and impacts. Overall, the message is that sharp lines do not have to be restrictive — rather, they can work together to create a distinctive and bold yet meditative visual language."
Susan Peloubet
Susan Peloubet is a mixed media artist. She uses organic and geometric shapes to create texture as well as pattern.  The third dimension of the stitching emerges as the viewer approaches the piece.  What seemed to be a line now has depth, and the eye is drawn to explore the details.
After exploring many different art forms, her sewing roots took hold, and led to her fascination of embroidery on paper.  She assembles abstract work through printmaking, collage, natural dying and hand stitching.  She is constantly studying new art forms to incorporate in her work.
Susan Peloubet is residing and working in Tampa, Florida.
"Visually drawn to geometric shapes, I explore the interaction between shapes and lines.  My work challenges the expectations of the classical hand embroidery world.  I use paper instead of fabric and stitch abstract work exploring line and shapes.  Visual tempos and textures emerge.  Color and stitching create form and depth.
Most of my work draws influence from the mid-century modern era.  It was a time of simple lines, organic shapes, neutral to bold colors and excitement.  I experiment with different art processes and assemble them forming my work."
Rebecca Zweibel's pieces serve as canvasses for her use of line, color, and texture. She works instinctively and thoughtfully, with no preplanned design in mind. Each ceramic form is made individually; she sketches and redraws different forms directly onto the clay surface until she is satisfied that she will like what will be built from the slab of clay—even then, she often alters the piece as she goes. Her designs are unrestrained and unmeditated and convey unprocessed emotions of freedom and abandon.
Zweibel constructs each piece one at a time; none are like any other. Her vessels are slab built from earthenware, stoneware, and porcelain. Her forms are decorated with varying combinations of terra sigillata, slip, and underglaze. Diverse tools and found objects are used to create unique textures on her pieces along with a traditional carving technique called sgraffito. Her pieces are fired in an electric kiln, rendering the designs indelible. Zweibel is always alert for new-found tools on her walks in the neighborhoods and on the beaches of Florida.
Primarily a self-taught artist, Zweibel is thankful for the opportunity to attend many inspiring workshops and retreats. She continues her education working with the many talented artists in her home studio in St. Petersburg. Her work has been recognized with numerous awards including the John Eckert Memorial Award for Clay, First Place in Florida CraftArt Members' Show, selected for the Fine Arts Society of Sarasota Creators and Collectors Show, and featured in Ceramics Monthly and Pottery Making Illustrated March/April 2018 cover and article.
"I came late to the idea of seeing myself as an artist, but I am so grateful to be able to learn and explore this unlimited world! I work in an intuitive way and find that my freshest results come from disconnecting my thoughts from the process at hand and letting my subconscious deliver what it needs to say."