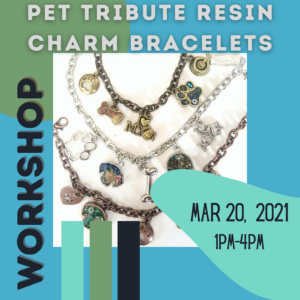 Pet Tribute Resin Charm Bracelets
with Jackie Kaufman
March 20, 2021
1pm- 4pm
We will be creating  individual custom made charms combining  your choice of your pets cremation ashes, hair, pet teeth plus glass, flowers, beads, glitter and more in layers of UV Resin. Each piece will be a creative tribute to your beloved pet.
You will have your choice of 3 shapes to use and other  decorative charms that can be added to finish off the look. of the charm bracelet. We will also have 3 finishes including silver, copper or bronze.
A matching ring is  included.
You will leave with a finished bracelet and ring.
Everything will be provided except the personal items you will add of your own pet.
We are doing our part to help animals in need. Thank you for your registration. $15.00 from each registration will be donated to Pet Pal.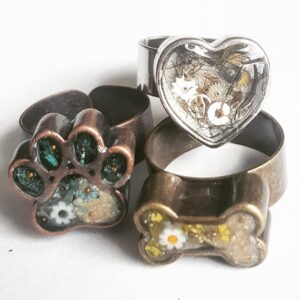 Purchasing a gift for someone? Consider a gift card! Call us at 727-822-7872 or drop in during business hours!
Cost: $70 per person 



For more information, please call the Morean Arts Center at 727.822.7872