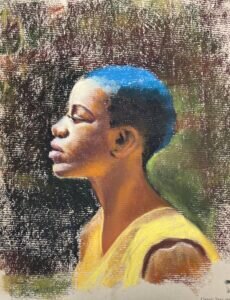 Portrait Drawing
with Shawn Dell Joyce
This is a Hybrid Class. It can be taken in-studio or online depending on preference. 
Jan 16, 2021, 2pm-5pm
Get a crash course in proportions of the human head, capturing a likeness, and techniques to simplify facial features. Work from proportion charts developed by court portrait artists in Renaissance era, for profile and full face. See how beautifully proportionate human beings are, then make a detailed sketch of a profile portrait, and a full face portrait from a photo reference (supplied). Once you get the hang of it, we will work from live models using pencil and charcoal. Open to beginners and advanced. Materials supplied, or bring your own pad of charcoal paper, 2B or 4B pencil, charcoal or conte'. Class is in person or online.
Purchasing a gift for someone? Consider a gift card! Call us at 727-822-7872 or drop in during business hours!
Cost: $60



For more information, please call the Morean Arts Center at 727.822.7872
---
INSTRUCTOR BIO: Shawn Dell Joyce is the founder and former executive director of a nonprofit plein air school in NY called Wallkill River School. She teaches workshops in pastel and plein air techniques across the country, and is endorsed by Ampersand Pastelbords who supply materials for her demos and workshops. In 2017, she was hired by UArt to do a plein air pastel workshop. She has also worked the plein air event circuit and participated in many prestigious events around the country, bringing home awards for her loose and colorful paintings. She recently placed 1st in the 2018 Inverness Plein Air Festival, 1st in the Quickdraw at Lightchasers in Sarasota, and 3rd in the Hudson Valley Plein Air Festival.  She is a signature member of New York Plein Air Painters (NYPAP), and International Plein Air Painters (IPAP), and has been featured in many national newspapers and magazines like the New York Times and Plein Air Magazine. She has participated in many national exhibits and plein air festivals, and is represented by galleries in NY and Florida.