On just about any afternoon you can find Charles Dean working in the natural light that cuts through warehouse door sized windows in his studio at the Morean Center for Clay. His focus on the malleable clay is trance-like. Dean had worked with a plasticine type of clay for many years as a Designing Sculptor at the General Motors Design Center in Warren, Michigan, where a full-scale clay model is the focus for the evolving design of a future automobile. In a recent Morean Member's show adjudicated by Chad Mize, Dean's 20 x 20 entry Driftless Deville was honored with the John Eckert Memorial Award for Clay.
In addition to his legendary work at Eckerd College, John Eckert was especially engaged in developing the strength and integrity of the programs offered at the Arts Center. Eckert was the Artist Representative on the Arts Center's board and taught clay classes at the Morean. "He was a wonderful volunteer and provided a voice for all artists in the community," said Morean Curator Amanda Cooper. "After his untimely death in 1987 at the age of 40, the Arts Center set up a memorial award in his name that is given out every year during the Members Show."
Artist Charles Dean has wintered in the St. Petersburg area for several years, but made the full-time and year-round commitment approximately one year ago. "I've had the good fortune to work in several "artist" clay environments such as Pewabic Pottery in Detroit and Northern Clay in Minneapolis." he said. "The studios, facilities and teachers here at the Morean Center for Clay are the best I've seen. And the kilns! There is always someone here who knows something about every aspect of creating with clay, and they are eager to share." said Dean.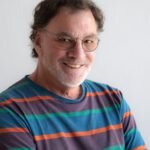 He is also an accomplished photographer utilizing mostly vintage film cameras. "It all started with a slice of a small geode. It seemed to me an amazing microcosm of the world was held within. All I had to do was capture it aesthetically. That day I bought my first camera with a macro lens." His award-winning piece features the iconic fin of a '59 Cadillac nestled in a field against a stone wall and razor wires protecting the farm crops in the background. "I am fascinated to see how nature has its way with what man had built way back when: weathered barns, old farm machinery, junked cars, etc., and also the beauty of the farms with their contour- plowed fields and how it all changes with the passing seasons. That has inspired my photography to no end." Dean is exploring ways to use his photographic images as a starting point to create bas-relief clay sculptures (Driftless DeVille, being one). "My earlier sculptures: large steel, wood and stone creations and my photography had always been separate endeavors. It is only in the last three years that I've tried to meld the two mediums and that happened at a mural class at Morean Center for Clay. Elle Leonard had the knowledge and the artistic sense to encourage me to transform a chosen image to a bas-relief work." One might find images of roadways that roll to the horizon through shoulder height grasses under open skies, or perhaps details of an old John Deere engine in his portfolio.
Dean did his undergraduate training in sculpture at Georgetown College in KY. He was inspired and influenced by the carvings of Henry Moore and painter Franz Kline. Dean is grateful he was able "to support a family by working for GM, earn a graduate degree, and all of it" while continuing to do is artwork in his off house. "GM Design was quite a place. With all sorts of artist, craftsmen and engineers, it was the largest design organization in the world at the time. If you had a "government job" going (a project you might be working on at lunch hour, say) you had eager craftsmen from all over the world to help you out with it. Amazing," he reflected. Dean pursued his Master's degree at Wayne State University where he did large welded steel sculptures and exhibited in Michigan galleries.
Meanwhile, He was restoring an old house in Galena, Illinois; a mineral boom town near the Mississippi River, close to Wisconsin. The topography is known as "Driftless" as the last glaciers somehow passed it by.
The region's unique characteristics with beautiful rolling hills and palisades fuels the enthusiasm of soil conversation groups, naturalists and tourists alike. Dean produced several "Driftless" audio/visual presentations that were shown to such groups in the region.
Dean eventually rose to leadership and became manager of the Saturn Design Studio at General Motors (he also had a bachelor's degree in Business Administration). His team was responsible for the Saturn line of cars and he fondly recalls that time as an opportunity for him to use his creative intuition to help enhance the studio environment and teamwork. "We made it all serious fun and did a great job of it. We were always bucking the system; bypassing bureaucracies and getting things done faster and cheaper." said Dean. The team was also on the leading edge of using digital methods to merge creativity and engineering.
Dean's progression in creative exploration may draw on the natural influence of his mother. "My mother studied painting in Paris at the Ecole des Beaux Arts the 1920s and later was a student at the Art Student League in NYC studying under John Sloan. "She never really encouraged me as an artist when I was young, but her work and others artists were everywhere in our house. She probably thought my whacky cartoons were beyond redemption, but here I am."