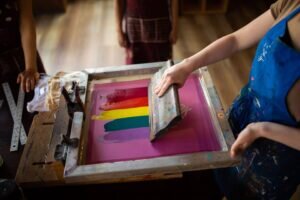 Teen Screen Workshop
w/ Matthew Jurecic
February 6, 2021
12pm-4pm 
Are you an aspiring screen printer or budding artist? In this class we will explore the history and fundamentals of screen printing, as well as some of the basic steps to get you started. We will begin by creating a drawing or graphic with any medium you wish to use. We will then apply our new found knowledge in real time to create a paper print, apparel/accessory piece as well as a mixed media design using layers of color, textures and shapes.
Cost:
Non-Member:$110
Member: $94

Purchasing a gift for someone? Consider a gift card! Call us at 727-822-7872 or drop in during business hours!
For more information, please call the Morean Arts Center at [email protected]
---
Matthew is a freelance designer and entrepreneur, originally from West Michigan. He studied fashion design at The Fashion Institute of Technology in NYC and has worked for several companies over the years in various creative roles. As a young aspiring designer, Matthew was able to help out in the family owned screen print business, Personali-Tees where he learned a little of the wealth of knowledge held by his grandmother and passed down to his mother over the years. He moved with his family to St Petersburg 7 years ago after falling in love with St Pete Beach and the Halloween celebration in Old Northeast. He has recently ventured out on his own creating Jurecic Art (think Jurassic Park but with art) a freelance design and apparel company start up. He is currently working on developing his own apparel line while working freelance for private clients. Matthew is a father of an adorable and sweet baby boy named Ace, the best and cutest boy in the world.