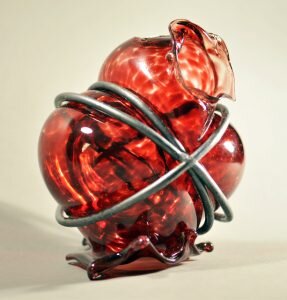 Beginning Glass Casting
with Kelsey Wright 
Wednesdays
6pm – 9pm
Fall Session 1 (Sep 8, 15, 22, 29)
Fall Session 2 (Oct 27, Nov 3, 10, 17)
The purpose of Beginning Glass Casting is to learn multiple modern casting techniques. Learn clay and wax working to create a form in which to create a solid glass artwork. From open face casting to lost wax casting you will create unique works of art as you learn the fascinating world of casted glass.
Kelsey attended Southern Illinois University where she studied glass working and Sculpture. Kelsey has been casting and blowing glass for over 5 years. She enjoys the process of casting and the unique experiences it offers.
Proper attire for working in the Hot Shop is pants, comfortable t-shirt or long sleeve shirt, and comfortable, closed-toed shoes. Please wear natural fibers (cotton) as synthetic fibers can melt near high temperatures. Please remove all jewelry from hands and arms.
Cost:
$425
Studio fee included



To register by phone, please call 727.822.7872