Chihuly Collection
Swing States: Recent Perspectives in Glass Sculpture from the Middle West
August 10 – October 31
Curated by Zac Weinberg
Zac Weinberg takes a critical look at contemporary glass practices in the Middle West where traditional centers of glassmaking have been located since the mid-nineteenth century. The exhibition showcases new glass work by Jennifer Halvorson (Muncie, IN), Kim Harty (Ferndale, MI), Nate Ricciuto (Columbus, OH), Heather Clancy (Pittsburgh, PA), Joanna Manousis (Maumee, OH), Alli Hoag (Toledo, OH), Sean Merchant (Brunswick, OH), and Mike Stevens (Toledo, OH).
Exquisite Corpse Games

June 8 – July 31
Exquisite Corpse is a game-registered in the Library of Congress for almost 100 years. Throughout the years it has been played by many, never like this version before.
Each year every piece created is a unique work of art that is part of the energetic flow. It is a unique blind collaboration and a very individualized experience, all at once. This exhibit will feature works from the 2017 & 2018 Games.
The stories are remarkable and mind blowing. Surrealism at its finest.
Perspectives in Glass: A Science in Optics
March 18 – May 31, 2019
In conjunction with the Annual Glass Art Society conference, hosted by the City of St. Petersburg this March, the Chihuly Collection will exhibit a number of the artists presenting at the Morean Glass Studio. This show will explore various approaches to glass as an artistic medium from a survey of artists from around the country. Objects in the show range from blown glass work, cast glass and even lit installation. Artists include Peter Houk and Lisabeth Sterling.
Norwood Viviano: Postindustrial
November 10, 2018 – February 28, 2019
A site-specific installation showcasing hand-blown representations of American Industrial cities with cast and 3-D printed city skylines that explore the historical implications on population.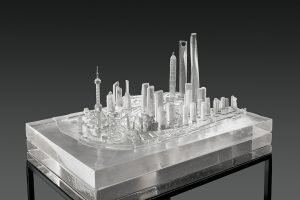 Featuring Preston Singletary, Jennifer Pohlman & Sabrina Knowles, David Walters and David Schnuckel.
SOLAS: Light Informs Glass
Featuring works by Richard Royal, Paula Stokes and Eric Mead
ECHOES: Universal Signals
Works by Ya La'ford
Encounters in Glass: James Mongrain & Jason Christian
Glasscentric