Beginning Flameworking with Melanie Cech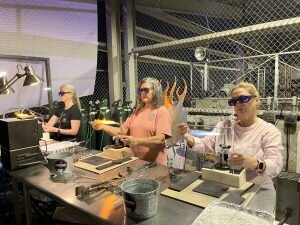 Wednesdays, 4 classes
6pm – 9pm
Offered for:
Winter Session 1 (Jan 11, 18, 25, Feb 1)
This weekly, 3 hour session for 4 weeks, is an introduction to solid, boro glass, flameworked sculpture techniques and torch work. 
Melanie will introduce you to set up safety procedures, materials and glass, how to use gravity with use of arm and hand positioning, and the beginning techniques to make a small sculpture.
Everyone will be allowed to work and progress at their own pace, but by the end of the 4 week session you will have the opportunity to hopefully make a few of your own pieces to take home!
Limit 4 persons.
Materials, glass, safety wear, and tools will be provided by the Morean. If you wear glasses, please let us know so we can provide clip on style of lenses for use over your glasses.
Non-Members – $410
Members – $350