Beginning Flameworking with Melanie Cech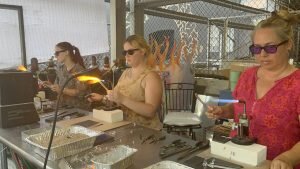 Wednesdays, 4 classes
6pm – 9pm
Offered for:
Winter Session 1 (Jan 11, 18, 25, Feb 1)
Spring Session (April 19, 26, May 3, 17) Please note: No class on May 10
Join me on Wednesday evenings from 6 – 9pm!
This weekly, 3 hour session for 4 weeks, is an introduction to SOLID, BOROSILICATE glass sculpture. I will teach you the basic techniques used to create designs behind the torch.
I will introduce you to techniques used in melting clear and colored rods and colored glass frits, safety procedures, the importance of gravity in flameworking, and the ins and outs of the premix torch. Everyone will be allowed to work at their own pace which makes this class a fun and creative experience! You will also be able to take your first glass pieces home with you after class each week!
ALL LEVELS OF EXPERICE WELCOMED!
Limit 4 persons.
Materials, glass, safety wear, and tools will be provided by the Morean. Please wear loose fitting clothes, close toed shoes, and bring your large water cup! If you wear glasses, please let us know so we can provide clip on style of lenses for use over your glasses.
SIGN UP BY CLICKING ON THE LINK BELOW
Non-Members: $410
Members: $350