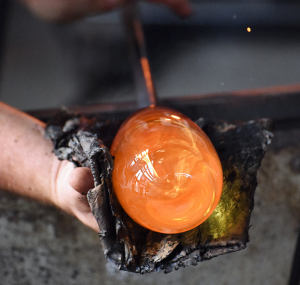 Beginning Glass Blowing
with Danielle Colón
Mondays, 4 classes
6:00pm – 9:00pm
Offered for:
Winter Session 1 (Jan 23, 30, Feb 6 and 13)
Winter Session 2 (Feb 27, March 6, 13 and 20)
Spring Session (April 17, 24, May 1 and 8)
In Beginning Glass Blowing, students with no glass blowing experience will learn basic vocabulary, hot shop safety and drills. In addition, students will learn to make blown objects and solid glass sculptures.
Proper attire for working in the Hot Shop is pants, comfortable t-shirt or long sleeve shirt, and comfortable, closed-toed shoes. Please wear natural fibers (cotton) as synthetic fibers can melt near high temperatures. Please remove all jewelry from hands and arms.
Cost:
Member $355
Non-Member $375
Studio fee included



To register by phone, please call 727.822.7872
---
Instructor Profile:
Danielle Colón graduated with a Painting BFA from Ringling College of Art & Design in 2015, but she had already caught the "glass bug" while taking a glass casting class at the Pilchuck Glass School in 2013, a pivotal moment in her life. Since then she has returned to Pilchuck on two more occasions, the second to learn glassblowing, and most recently in April 2016, to assist renowned artist Laura Donefer. Danielle's past experiences also include participating in the AICAD New York Studio Residency Program and interning at UrbanGlass studios, both in Brooklyn, NYC. Shortly before completing her degree she began interning with Duncan McClellan Gallery here in St Petersburg. The internship became a full-time position, where Danielle has been able to observe and learn from some of the best artists in the industry. In the summer of 2016 she was asked to become a part of the Morean Arts Center team, now sharing her passion of glass with the public through demonstrating and teaching. Danielle is very grateful to have found a community like St Petersburg that embraces the arts.
Her current work reflects a desire to capture light and space, engaging the natural properties of glass with gestural marks and movement to communicate a contradiction–beautiful nothingness.