BRONZClay Bead Making Workshop
w/ Roxanne Pizzuto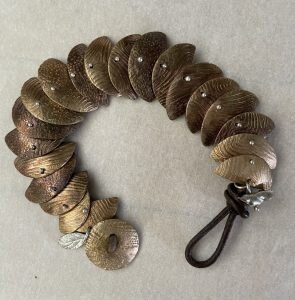 Saturday, July 16
11am – 2pm
Price: $60
$25 Materials Fee payable to instructor
Join the fun and learn how to make a hollow formed bead using a revolutionary jewelry-making material, BRONZClay. BRONZClay is a clay body that contains fine bronze particles. During the firing process, the clay body burns off, resulting in a unique and beautiful bronze piece of jewelry.
This workshop begins with students learning to make their own textured plate using polymer clay. This plate will be used to texture the BRONZClay during the bead-making process. OPTIONAL- Students can bring tools and unique items to create textures for their plate. Students are taught to form, texture, and manipulate BRONZClay to make their hollow formed bead. Finishing techniques will be discussed as well as findings and turning your bead into a wearable piece of jewelry.
Instructor will fire your BRONZClay bead, details will be given at the workshop.
Instructor will also supply materials needed for a successful workshop!
$25 Material Fee, payable to instructor
(Optional) Students can bring an Xacto knife, a drinking straw, a very small paint brush, clean clay tools, & any interesting items they want to use in creating texture for your polymer texture plate.
About Roxanne Pizzuto
Roxanne Pizzuto's earliest childhood memory is walking up big marble steps to enter the Cincinnati Art Museum on a cold Saturday morning. While holding her sister's hand, they entered the museum with quiet reverence as though they were entering church. That feeling and importance of creating art continued to grow with the encouragement of her family.
Roxanne received her BFA from Maine College of Art in 1988 and moved to St Petersburg in 1994.
Although somewhat of an introvert, she was encouraged to teach and soon found a lasting passion for teaching art. Roxanne retired from teaching art in Pinellas County Schools in 2019. Since then, she has been dividing her creative time between painting and making jewelry in her home studio.
"I love making things. Jewelry making satisfies my desire to make things using my favorite tools and allows me to safely play with fire!"