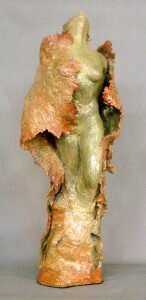 Figurative Sculpture in Clay with Kyu Yamamoto
Saturdays
10am – 12:30pm
From 2-D sketching to 3-D modeling; from paper to clay: students will develop skills and hone techniques in fashion the human figure. Explore the process of translating physical detail and emotion from a live model to sculpture. Learn the use of armatures, hollowing, reassembling, and finishing your sculpture. Understanding and expressing emotion will be key to the success of your work.
Download the material list below:
[ddownload id="5874″]
Purchase clay prior to your first class by calling 727-821-7162 and it will be delivered to our studios.
Cost:
Member $210
Non-Member $240
Model fee included
To register by phone, please call the Morean Arts Center at 727.822.7872
---
Instructor Bio
Kyu Yamamoto
www.kyuyamamoto.com
[email protected]
Under the tutelage of Kozo Shibata, Kyu (pronounced "Q") began studying sculpture as a fine arts student at Asahigaoka, the visual arts magnet school in Nagoya, Japan. After then majoring in Classical Sculpture at the acclaimed Aichi Fine Arts University, he worked for several years with the commercial Rui Kobo Studios, producing sculpted ornamental and decorative work throughout Japan, including Tokyo Disneyland.
In 1985, Yamamoto was asked to use his sculpting and casting skills to serve as Assistant Sculptor for completion of the Statue of Athena inside Nashville's century-old full-size replica of the ancient Greek Parthenon. At 42 feet, Athena is the tallest indoor sculpture in the Western World. He also began teaching during the time, instructing students at the Centennial Arts Center and the Watkins Institute. His first corporate commission (for the Great American/Southwestern Company's corporate headquarters), and his first public commission (for the city of Portland) occurred while living in Nashville.
Kyu moved his studio to St. Petersburg, FL in 1992. Known throughout the Tampa Bay area for his contributions to public art (USF St Petersburg, Johns Hopkins/All Children's Hospital, St Petersburg Fire Station #4) Kyu has been faculty/instructor for the Ringling College of Art and Design, Sarasota, FL; the Penland School of American Craft, Penland, NC; the Morean Arts Center, St Petersburg, FL; the Dunedin Fine Arts Center, Dunedin, FL; the city of St Petersburg, FL; Odyssey Center for Ceramic Arts, Asheville, NC; and is a founding faculty member of the Clay Center of St Petersburg.