Fun with UV Resin & Shapes Workshop
with Jackie Kaufman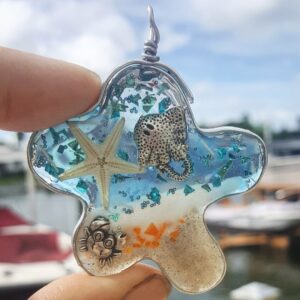 Saturday, December 2
1pm – 5pm
Price: $80
In this workshop we will be exploring how to use UV Resin to create beautiful pieces of jewelry.
We will be working with different colors and sizes of bezel wire to create your own unique shapes and will complete at least 2 pieces. We will then learn how to  fill these bezels with layers and layers of resin and many different inclusions including glass, beads, clay, dried flowers and more.The teacher will supply many different options. The students may also bring their own personal
items to add, but it is not necessary. You will leave with completed pieces. Chains will be included. This is a non-stress relaxing workshop where you will learn a new skill. 
Reading glasses are recommended since we will be working with small pieces.
$80
$10 materials fee payable to instructor day of workshop