Handbuilding with Jan Richardson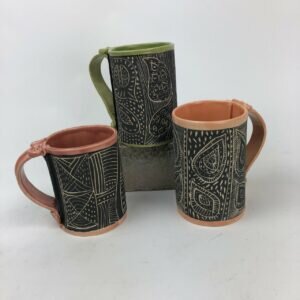 Wednesdays, 6 classes
6pm – 8:30pm
Skill Level: All Levels
Offered for:
Winter Session 1 (Jan 11, 18, 25, Feb 1, 8, 15)
Winter Session 2 (March 1, 8, 15, 22, 29, April 6)
Spring Session (April 20, 27, May 4, 11, 18, 25)
Hand building techniques as applied to a variety of different clay bodies including mid range stone ware, porcelain paper clay or colored clay. Templates will be provided for some projects and students will be encouraged to develop their own templates and techniques. Both sculptural and functional work will be presented and encouraged.
Purchase clay prior to your first class by calling 727-821-7162 (Wed-Sat 10am-5pm)
Phoenix – Best for Beginners– Made by Highwater Clays. Fires to a light tan in color. Great clay for beginners. Smooth enough to throw on the potter's wheel, but strong enough to withstand most hand-building techniques. Can be fired from Cone 6 to Cone 10. Cost is $20, $21.40 after tax.

Speckled Brownstone – Made by Highwater Clays. Fires to a light brown in color with small black specs. Great for throwing on the potter's wheel. Can be fired to Cone 6. Cost is $20, $21.40 after tax.
Purchasing a gift for someone? Consider a gift card! Call us at 727-822-7872 or drop in during business hours!
Non-Members: $230
Members: $180
Sign up for a membership HERE, and receive $50 off
For more information or to register over the phone, please call the Morean Arts Center at 727-821-7162
(If class has already begun, please call to inquire about late registration.)
All ceramic classes will be held at the
Morean Center for Clay
420 22nd Street South
St. Petersburg, FL 33712
Jan Richardson
Jan Richardson has  worked in clay since 1960, the majority of the time as a hand builder.  She created Windy Meadows Pottery, designing and making intricate stoneware building caricatures.  Her paper clay experience began in 2013 after meeting Rosette Gault, the developer of the paper clay we will be using.