Relief Printmaking with Monice Morenz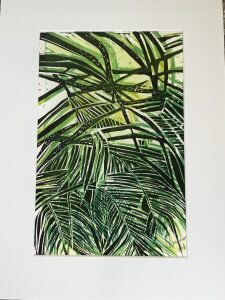 Thursdays
6pm – 9pm
Offered for:
Winter Session 1 (Jan 6, 13, 20, 27, Feb 3, 10)
Winter Session 2 (Feb 24, Mar 3, 10, 17, 24, 31)
The art of relief printmaking is extremely vogue now. Relief printing is both fine art and craft. Artists use relief blocks to make monoprints, cards and crafts. It is a versatile medium based on elements of line, shape and color.
In this introductory course, you will learn how to design and carve a small block. Blocks will be inked and printed by hand on the etching press. Monice will demonstrate how you can create a collection of prints and cards. Experienced printmakers can work on multi-blocks and more intricate designs.
Materials list (responsibility of student – available at dickblick.com):
A basic set of Speedball linoleum cutting tools, one handle comes with 5 blades.
2 linoleum or soft cut carving blocks (Speedy-Carve™ Blocks) 4″x6″.
2 soft rubber brayers, 2″ and 4″.
A ruler or square, masking tape.
Sketchbook.
8″x10″ plexiglass sheet.
Paper towels and rags.
*Water based inks and paper will be provided for $20 – payable in cash to the instructor at start of class*
Non-Members: $203
Members: $153