Throwing Taller with Don Williams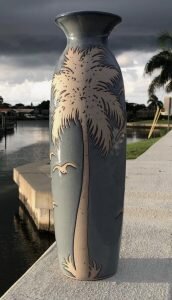 Wednesdays, 6 classes
6:30pm – 10:30pm
Offered for:
Fall Session 1 (September 20, 27, October 4, 11, 18, 25)
Fall Session 2 (November 8, 15, 22, 29, December 6, 13)
Please note that there is NO CLASS or OPEN STUDIO during make up week (weeks of October 30 and December 18)

This course focuses on refining your throwing techniques to achieve taller forms with less effort. Students will also learn through a variety of demonstrations in wax resist, sprigging, roulette wheels, and glaze application. We will be firing the soda kiln! Please bring a towel.
Purchase clay prior to your first class by calling 727-821-7162 ext.2311 Please note that we are open Wed-Sat 10am-5pm
Phoenix – Made by Highwater Clays. Fires to a light tan in color. Great clay for beginners. Smooth enough to throw on the potter's wheel, but strong enough to withstand most hand-building techniques. Can be fired from Cone 6 to Cone 10. Cost is $23.54
Speckled Brownstone – Made by Highwater Clays. Fires to a light brown in color with small black specs. Great for throwing on the potter's wheel. Can be fired to Cone 6. Cost is $23.54
Purchasing a gift for someone? Consider a gift card! Call us at 727-822-7872 or drop in during business hours!
Non-Members: $260
Members: $210
Please note that there is NO CLASS or OPEN STUDIO during make up week (weeks of October 30 and December 18) unless confirmed by your instructor
All ceramic classes will be held at the
Morean Center for Clay
420 22nd St S
St. Petersburg, FL 33712