MEMORIAL DAY ART OF VALOR 2021
On Memorial Day we join you in honoring those who made the ultimate sacrifice for Country and Freedom. Many of the Veterans we serve through our Operation: Art of Valor program lost best friends and mentors on the field of battle.  We are sharing with you this online gallery of art, made by Veterans who honor and keep the memories of those lost alive in the stories they share, the tattoos they wear, and often in the experiences that influence their artwork.
We hope that this online gallery provides a peaceful moment to reflect on this Memorial Day Holiday. 
The Morean Arts Center partnered with James A. Haley Veterans' Hospital to offer glassblowing to military patients and veterans as part of a community-based arts program in 2018. In 2020 the program expanded to offer photography, which allowed the artists to remain engaged while observing COVID restrictions. With the support of the regional arts and military community, we will expand the program to include clay art activities and other mediums this year. Regardless of the mission art form or materials, Operation: Art of Valor exists to serve the military and veteran population through structured, hands-on learning that focuses on improving cognition, social interaction, physical dexterity, teamwork and confidence. For more information about Art of Valor: 
Click Here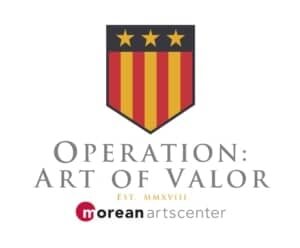 The Morean Arts Center is a Charity Navigator Silver Star rated 501c3. 
Morean Arts Center/Glass Studio:
719 Central Avenue
Chihuly Collection:
720 Central Avenue
Morean Center for Clay:
420 22nd Street South
727-822-7872