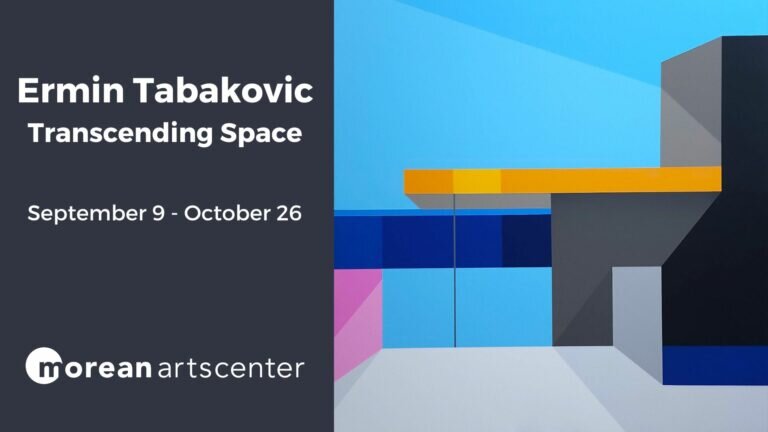 Opening Reception: Saturday, September 9th, 5pm to 8pm
Ermin Tabakovic was born in 1980 in former Yugoslavia (now Bosnia). In 1993 he and his family moved to Berlin, Germany where they lived between 1993-1998. As a teenager in Berlin, Ermin was involved in the city's vibrant graffiti art scene and completed numerous murals. In 1998 he and his family emigrated to the United States, settling in the Tampa Bay area. Upon arrival in the US, Ermin took on painting and studied at St. Petersburg College where he focused on art and architecture. He went on to study art at the University of Central Florida in Orlando where he completed his BFA in Art Studio with Minors in Graphic Design and Art History.
Ermin actively exhibited his work between 2000-2008, taking part in many shows throughout Florida. He stopped painting in 2008 due to health issues and picked it up again in 2020 with a new vigor and a new vision. His new works are mature, colorful and bold representations of his core vision and aesthetic steeped in geometric form and a structural sensibility. Currently Ermin resides in Tampa with his wife Lisa and their beloved cat Maximus.
"Modern geometric painting has had a very big influence on my work, especially the Constructivist artists such as Malevich and El Lissitzky and the various other modern Art movements of the 20th century such as Cubism, Neoplasticism, Minimalism, and Surrealism. In my current work I tend to fuse all these different influences and combine them with my own personal aesthetic to create a new visual language that transcends the past and points to something new and different. We live in a digital age, so there is that digital touch to my compositions as well by using the hard-edge approach.
"I want the works to be visually striking, thus my use of vibrant colors, contrast, pure and robust geometric forms, clean lines, etc. I also like to add a surreal touch to my works to give them a sense of mystery and visual drama. Furthermore, I seek to create visual paradoxes by intertwining 2D and 3D space to add tension and ambiguity. My aim is to challenge the viewer's perception of space and test the boundaries of what is possible by juxtaposing the seemingly impossible."