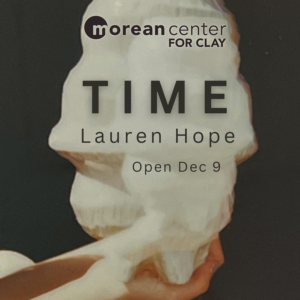 Opening reception: December 9, 5-9PM
December 9 – December 30
Morean Center for Clay
Lauren Hope is a ceramic artist, photographer, and educator in the Tampa Bay area. Her upcoming exhibition Time is an investigation of alternative photographic process, using clay as a catalyst for record keeping. Using ceramic vessels as pin hole cameras, Lauren captures moments in time and transfers them onto ceramic surfaces. This exhibition will be a collection of photographic prints, vessels, cyanotypes, and handmade pinhole cameras.
Artist Statement:
My work is heavily influenced by the complexity of hues, forms, and patterns found in the natural world. This studio practice has become deeply cathartic, signifying the ephemeral and fleeting notions of time.
Ceramic vessels within this collection are wheel-thrown, altered, and sculpted. Every striation carved serves as a visual representation and a gentle reminder of the delicate passing moment. This method of subtractive carving has become transformative, developing into deep states of meditation and reflection.
Experimental photography is used as an explorative process, allowing for the convergence of internal and external experiences. By casting memories and photographic recollections onto stoneware, I attempt to immortalize my profound experiences and revelations.