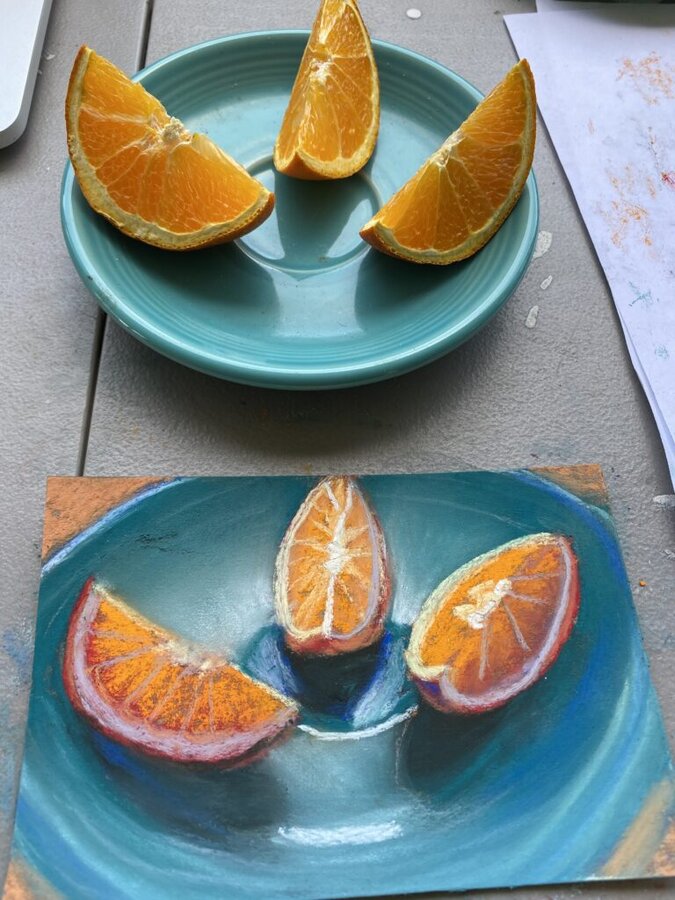 Learn Pastels in 4 Hours with Shawn Dell Joyce
July 3, 2021 – 1pm-5pm
or
Aug 7, 2021 – 1pm-5pm
Beginning Pastel Workshop Learn to use pastels to make beautiful and realistic paintings from direct observation. Learn about pastel hardnesses, paper tooth, and substrates. Layer pastel to create your own color wheel from primaries, and how to use a complementary palette.
1pm: Values
Seeing 5 values from light to dark
Capturing values
Painting dark and light with pastel
2pm: Color (and mixing)
Seeing color as value-mixing 5 values from the primaries
Make your own color wheel from the primaries
3pm: Materials and papers
Try out different paper samples and blending techniques
Test different pastel hardnesses and brands
4-5pm Putting it all together:
Make a pastel painting from start to finish with a value sketch.
Recommended materials-
Pastels (soft pastels not oil) set of 72 half sticks or different colors in a medium quality brand: Rembrant, Art Spectrum, etc. Paper (pastel paper has two sides, one rough, one smooth) Canson Mi Tentes pad, pencil, eraser, and washcloth
What I use…
Mount Vision Pastels (Made in Tampa), Unison, Pastels Girault (harder) Schminke (very soft for whites and lights)
Ampersand Pastelbords
Non-Members: $60 Members: $51

Purchasing a gift for someone? Consider a gift card! Call us at 727-822-7872 or drop in during business hours!
For more information, please call the Morean Arts Center at [email protected]