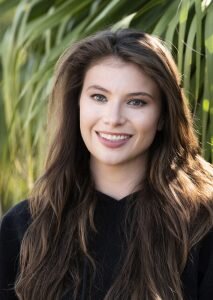 Morgan Janssen,  Sarasota
  Morgan Janssen received her MFA from Cranbrook Academy of Art and is a graduate of Ringling College of Art and Design. She has exhibited work in Art Basel Miami Beach, the Museum of Fine Art, St. Petersburg, Mercedes Benz Financial Services, and with group shows throughout the state of Florida. Currently, Morgan remains connected within the Sarasota community as an artist and an instructor with Ringling and State College of Florida.
"My work examines tropical imagery and packaged paradises through analysis of artificial objects and commercially-sold color palettes. Exotic plants, animal busts, and bright color palettes are common sources of inspiration. By creating faux tropical imagery, I examine the nuance of the concept of paradise through remnants of natural elements. The plastics and rubber used discuss outlasting the original along with looking at the construction of the 'natural other'. Dissecting paradise as a location or better place and reconstructing it elsewhere is what the average individual thinks of as tropical – something that is not here. I challenge the concept and core meaning of what it means to 'exoticize' a paradise to achieve that better sense of well-being.
"My work is a social commentary on controlling nature and reducing it into manageable units.   By using natural imagery and transposing it into plastic, I vacate its reality and redefine it through a shell of its existence. The work protects the viewer from the dangers, perceived or romanticized, of nature; safety is thereby insured for the viewer through an artificial sense of control through its aesthetic expression.
"Historically, my art stems from beautifully framed landscape and still life oil paintings that plucked natural visual elements from existing exotic realms. This reductionism, well known in art history, is made contemporary through both technical and conceptual realizations in my sculpture."
@momojanssen