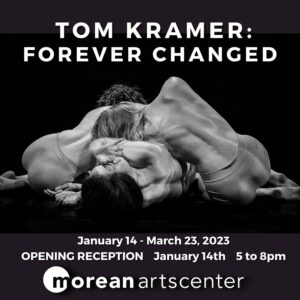 Opening Reception: January 14th from 5-8pm
Tom Kramer, who passed away in 2022 at the age of 87, was a dance, film and theater photographer known for images described as "dramatic, technically sharp, incisive and capable of capturing the very essence of a performer."
His last series of photographs, entitled "Forever Changed," was created at the Palladium Theater in downtown St. Petersburg with a handful of dancers and lighting technicians over a period of four days. It addresses the lack of connectivity felt during COVID, which hit the arts community particularly hard.
As Tom explained, "A good dance photograph has to be both a good photograph and good dance. It has to be technically proficient – both in the photographic technique and the dance technique, and that's very difficult. . . and exciting.
"It's a totally collaborative process – you're responding to the moment, and the moment is fractional in terms of seconds. You're anticipating what is going to happen – that's where experience comes in. You do it on those rare occasions when the dancers have a stage and the lights are on."
Tom's work is in the permanent collection of the Museum of Fine Arts St. Petersburg and the Leepa Rattner Museum, who hosted a solo exhibit of his dance photographs in 2015. In 2019, The Studio@620 hosted a solo exhibit of his work that included live performances, discussion and workshops to celebrate his 85th birthday. His photographs are in the Dance Archives at the Walter Reuther Library at Wayne State University and featured in their One Hundred Years of Dance exhibition.
For nearly 20 years, Tom was a regular at the Morean's Saturday Open Figure Drawing Studio, which honed his understanding of human anatomy and informed his photography.