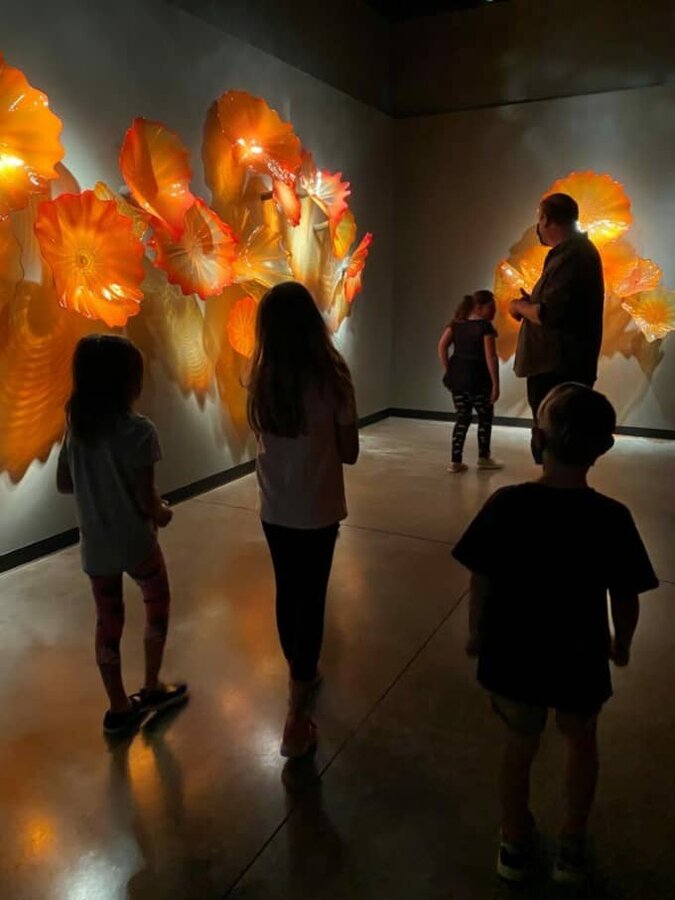 Groups of up to 8 people can enjoy access to the entire Chihuly Collection in a private docent guided tour; The small group/family tour package also includes a 10% discount on Chihuly Collection Gift Shop Purchases, Morean Arts Center, and Morean Glass Studio gallery shops. You can also catch a glass blowing demonstration. $160.00
Learn More Here
Memory Mornings At the Morean
Caregivers and family members and friends with Alzheimer's or Dementia can register for specific dates to view a work of art from the collection and have a relaxed discussion about the work.
The first artwork in this series will be Chihuly's Mille Fiori pictured above.
Those who register will receive an email confirmation with a zoom meeting link for the day of the discussion. These talks will be hosted by the Executive Director, Andy Schlauch and will use images of the Mille Fiori as well as a video to help illustrate the color and scale of the installation.
We are able to host these events at $10 per pair. This is a savings of 75% off normal ticket prices. Only 12 slots available per session, so book today.
We look forward to hosting you and having an exciting conversation about Chihuly's incredible art. See you there!
Every organization faces the challenge of navigating across groups and team member areas of expertise. Do your team members fully understand how the work they do contributes to the whole?  Have they lost perspective on the impact that you collectively make each month, week or day?
Informed by our successful One Day Tampa Bay photography challenge, the Morean team of professional photographers and photography instructors offer a creative team building option.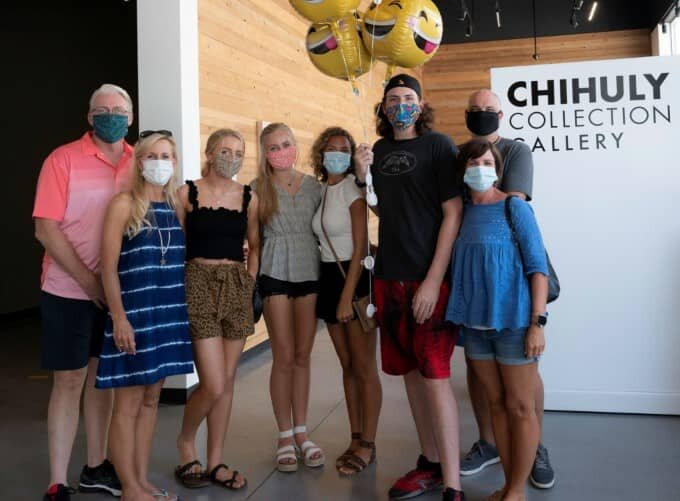 Groups of 9 or more can enjoy discounted rates for the Chihuly Collection presented by the Morean Arts Center located in St. Petersburg's beautiful downtown. You may also book a visit to include the experience of live glassblowing demonstrations at the Glass Studio, enjoyment of the galleries of the Morean Arts Center, and a behind the scenes tour of the Morean Center for Clay.
A variety of topics listed below, all just $12.50 per student
Color and Form – A virtual tour of the Chihuly Collection and insights on Dale Chihuly's personal creative journey, overcoming disabilities and the critical importance of teamwork. Learn how Dale Chihuly faced personal and physical challenges in pursuit of his Art. Discover the chemistry, process and artistry of glass blowing, connecting Art and Science. See the Importance of Teamwork to the success of major art projects. Join Interactive Discussions with Glass Art Experts and more!
Artist as Activist – Artistic Activism combines creativity and social commentary to move us emotionally to bring about social change. Quinton Merada uses his art to explore social challenges through history.
Coming Soon:
Science of Glass Art – glass artists talk about the math, chemistry
Math of Mud – clay art fundamentals and exploration of the steps involved in making and firing a clay piece
Chemistry of Glazing
 
Creative Circles @ Morean Center for Clay
You bring your 'creative circle' and our Artists-in-Residence and Art Instructors will custom build an arts experience for you and your bubble.  Contact Morean Center for Clay Director valerie.scot[email protected] for details and schedule options. 
he 2020-21 Artists in Residence are seen here in the Function space of the Morean Center for Clay.
Thank you once again for expressing interest in visiting our facilities. Hopefully, this information has provided you with answers that will help you build excitement and anticipation for your visit!
After submitting your information in the Tour Request Form, the Group Sales Coordinator will respond directly to your request and will be able to answer any questions you may have. You will also receive a follow-up packet via email with information on parking, directions, and FAQs.
If questions arise, please do not hesitate to contact us, we are here to make your experience unlike any other:
[email protected]
(727) 822-7872 ext. 2123
Morean Arts Center/Glass Studio:
719 Central Avenue
Chihuly Collection:
720 Central Avenue
Morean Center for Clay:
420 22nd Street South
727-822-7872