Advanced Glassblowing
with Benjamin Elliott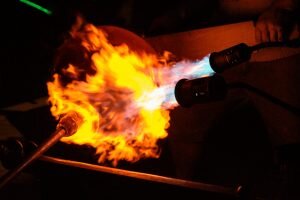 Wednesdays, 4 classes
6pm – 9pm
Offered for:
Fall Session 1 (September 27, Oct 4, 11, 18)
This Advanced Glassblowing class is designed for students who are comfortable with the gathering and shaping of glass and have found a creative vision/direction in glassworking. This class is designed to give students a guided personal direction. Each student will create a proposal to which they will direct their learning and be guided by fellow students and the instructor to facilitate the creation of their vision. All students must have successfully completed no less than three prior courses (36 hours) in glassblowing.
Proper attire for working in the Hot Shop is pants, comfortable t-shirt or long sleeve shirt. Closed-toe shoes are required. Please wear natural fibers (cotton) as synthetic fibers can melt near high temperatures. Please remove all jewelry from hands and arms.
Non-Members: $430
Members: $370
Studio fee included
To register by phone, please call 727.822.7872
 18 and up only